On-line workshops to inspire and motivate
Why not take time out from the lock-down and join in with one of our short on-line art classes? Designed to inspire and motivate, the workshops are relaxed and fun, with an emphasis on experimentation. Each class will introduce a topic or demonstrate a technique for you to try at home. Join in during the class and chat to others for inspiration and ideas.
Motivate yourself with a new idea

Learn something different

Socialise safely with other artists
Classes are designed to be simple enough for you to use the materials you already own. Once you have signed up to a class, you will be sent confirmation and a materials list to prepare for the class. Classes begin at 10:00am in-line with regular Field Breaks in-person classes. There will be a break mid-way and time to chat and swap ideas with the group.
Classes are £10 each, bookable on-line via the links below
We look forward to seeing you!
Technical requirements
Please note these classes take part on-line using Zoom. Please make sure you have a secure internet connection and have set your camera so we can see your happy smiling face (no foreheads please!) If you want to join in with the painting, you'll need to sit at a table/easel within sight of the screen/camera so it's worth preparing your workspace and materials in good time beforehand to prevent delays. Instructions for joining and a zoom meeting invitation will be sent out to participants before each class.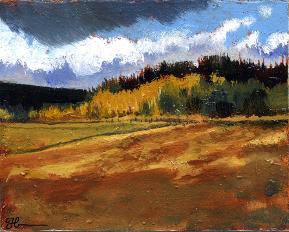 Friday April 2nd 10:00am to 11:30am
Concentrating on winter colours, we will find a way to mix natural looking tones to add drama to an otherwise cool or uninteresting picture. We will look at finding a good subject and looking at ways to use an unpromising photograph and turn it to our advantage. Suitable for all abilities.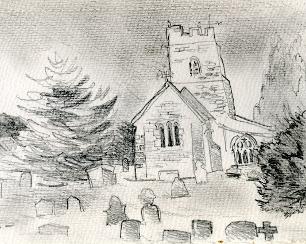 Monday 12th April 10:00am to 11:30am
Looking at a typical country parish church for inspiration, we will use this to flex our drawing skills and graphic mark making techniques. In this workshop we will learn how to choose a good subject and to simplify complicated perspective problems into easy shapes, freeing us from the agony of technical "sizing-up" problems. Once the workshop is over, you will be inspired to go out and find more subjects to fill your sketchbook. Suitable for all abilities.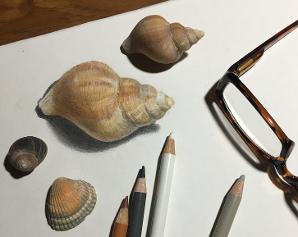 Friday 16th April 10:00am to 11:30am
Looking closely at the common whelk, we will use coloured pencils to capture this most gorgeous treasure found on our beaches. Surprisingly tricky to draw, we will look at ways of using simple geometry to define the correct shape before using botanical illustration techniques to apply layers of colour to work up the tones and create the illustion of depth. Suitable for all abilities.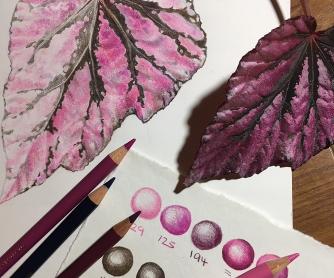 Houseplant Challenge 1 - The Begonia Leaf
Friday 23rd April 10:00am to 11:30am
Join us for a workshop with an emphasis on detail - this week we look at a common houseplant, the begonia. We find ways of drawing out the shape with accuracy, before going on to selecting the best colours and techniques to describe the foliage. For all those who enjoy botanical illustration, and suitable for all abilities.