Plein Air Painting
Monday 27th June 2022 at 10:00 am

-

3:30 pm

The Art Room, Wilkin Hill, Barlow, Derbyshire S18 7TE

Plein Air Painting in your favourite medium
Join us for the day as we paint outdoors (weather permitting!), using the surroundings of The Art Room studio for our inspiration. Starting with some sketches, we will learn the skills of direct observation and use our studies and notes to work on a composition back in the studio. Local Derbyshire based artist Hazel Money will give step-by-step demonstration and tuition to help us identify the main features in a landscape and use them to work up your own composition back in the studio.
We will look at mixing realistic looking colours and learn ways to manipulate the view by using our "Artistic Licence". By the end of the workshop you will have learned a series of transferrable skills that you can use for painting outdoors at any time.
Tutor: Hazel Money

Suitable for total beginners through to those who already enjoy painting the landscape.
If the weather is not suitable, we will draw from a series of sketches and photographs, and use the panoramic view through the front of the studio as our inspiration. Even if the weather is poor, often the clouds racing through the sky can provide a very dramatic subject so we will not be short of ideas.
Photographic reference will be provided from around the surroundings along with refreshments. Please bring a packed lunch, also an apron or suitable clothes for painting. Parking is on site. This is a non-residential workshop.
Please bring either your favourite painting materials, or if you want to work in Hazel's style,a range acrylic or oil paint colours including: white/ultramarine blue/burnt sienna/cadmium red/yellow ochre/cadmium yellow; along with bristle and watercolour brushes, water pot, palette and at least one canvas of your choice, sized 12″ x 8″ or larger if you are either a fast worker or like to work on a big scale. Please underpaint your canvas by covering it in a "scrumbled" texture of burnt sienna or yellow ochre mixed with a little water - please see below for more details. Hazel will share out any acrylic colours you may not have, and also bring some spare pre-primed underpainted canvases you can purchase on the day if you wish. If you are bringing oils, please also remember some turpentine to wash your brushes in.The workshop fee is £99 and is payable to confirmlace. Please see How to Pay. Terms and Condiions apply.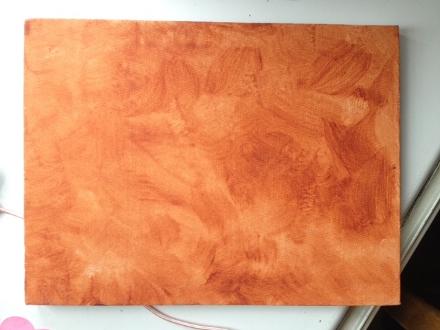 If you fancy following in the steps of the great landscape painters such as Constable, you may wish to have a go at this before the workshop:
Cover your primed painting surface with a "scrumbled" layer of burnt sienna or yellow ochre acrylic paint, as per this example. Use a little water to aid transparency and use criss-cossed strokes to create a random texture.
Please make sure this is completely dry before the workshop begins or it will lift and mix with your other colours (though don't panic if it's not - you may find the mix lends a certain mysterious quality to your painting and creates one of those "happy accidents!")
If you do not have burnt sienna, any mid brown or rusty red will do, or yellow ochre, orange, sand colour... it's up to you!