Painting the Summer Season
Botanical art and illustration in Watercolours
10th August at 2:00 pm

- 12th

August 2021 at 2:00 pm

Nightingale Centre, Great Hucklow, Near Tideswell, Derbyshire SK17 8RH
Painting the Summer Season - Botanical art and illustration in watercolours
Learn about the fascinating history of botanical art and illustration on this residential course, which is aimed at both complete beginners and improvers. Using mainly watercolours and working directly from a choice of specimens, you will develop your knowledge and skills of botanical art, learning how to represent three dimensional objects on a flat surface.
Expert tutor Dawn Wright will take you through an exploration into textures and surface pattern, and you will learn to apply a basic colour theory to understand the relationships of colour and tonal values to add realism to your work. There will be opportunities to try different techniques and gain an understanding into the makings of a good composition.
Whether you are already a keen botanical illustrator or are new to the field, the course is an ideal place to work alongside other like-minded artists, share ideas and see work in progress first-hand.
Arrive 2 pm on Wednesday 10th August, departing 2 pm on Friday 12th August 2022.
The programme details along with the suggested list of materials will be forwarded 8 weeks prior to the workshop start date.
e workshop fee is £99 and is payable to confirm a place. Please see How to Py. Terms and Condiions apply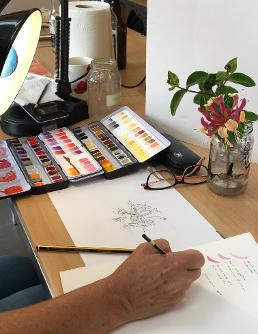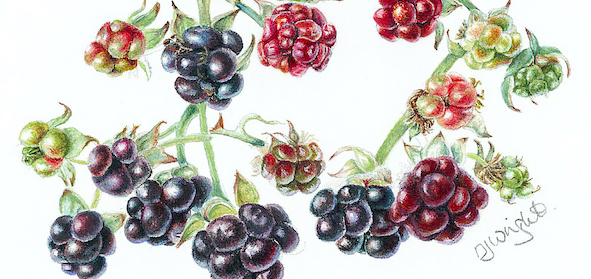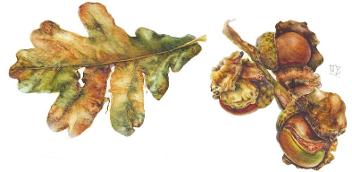 Your accommodation
The Nightingale Centre at Great Hucklow, near Tideswell in Derbyshire is a spacious, warm and friendly residential centre where you will have your own single-occupancy en-suite room. Meals are set out in the communal restaurant area and the car park is very close-to, with access ramp. The teaching room is light, secure and surrounded by the wonderful Derbyshire countryside. You can choose to stay non-residential if you live locally, or prefer your own choice of accommodation (Derbyshire is full of places to stay). Non-painting partners are also welcome, please enquire for availability and pricing options. Different dietary options are catered for, so please advise or ask when you book your place. We hope that you will enjoy your stay!
Fully residential places @ £420
Non-residential places @ £220 (includes refreshments and lunches.)

An £80 deposit is payable to secure booking (
Please see How to Pay )
with balance fees payable 8 weeks prior to the start date.
Terms and Conditions apply.