Winter Trees in Acrylic Paints
Tuesday 15th March 2022 at 10:00 am

-

3:30 pm

The Art Room, Wilkin Hill,Barlow, Derbyshire S18 7TE

Winter Trees in Acrylic Paints
Last minute place now available for just £60!!
Learn how to create stunning portraits of trees during their dormancy in the Winter time, in this relaxing and enjoyable workshop. Field Breaks Art resident artist Hazel Money will give step-by-step demonstration and tuition to help us identify the correct colours and tonal values that will look both realistic and can be used to work up your own compositions afterwards.
Do you struggle to find realistic colours with acrylics? Learn how to mix with a limited palette of colours, and try different brush techniques to describe the subtle variety of textures in trees and the landscape.
By the end of the workshop you will have learned a series of transferrable skills that you can use for paintings of your own featuring trees in the depths of winter - you'll never pass a leafless tree again without fumbling for your camera!
Tutor: Hazel Money

Suitable for total beginners through to those who already enjoy painting with acrylics.
Photographic reference will be provided along with refreshments. Please bring a packed lunch, also an apron or suitable clothes for painting. Parking is on site. This is a non-residential workshop.
Please bring a range acrylic paint colours including white/ultramarine blue/burnt sienna/cadmium red/yellow ochre; along with bristle and watercolour brushes, water pot, palette and a canvas of your choice, sized 12″ x 8″ or larger. Please underpaint your canvas by covering it in a "scrumbled" texture of burnt sienna mixed with a little water - please see below for more details. Hazel will share out any acrylic colours we may not have, and also bring some spare pre-primed underpainted canvases you can purchase on the day if you wish.The workshop fee is £99 and is payable to confirmlace. Please see How to Pay. Terms and Condiions apply.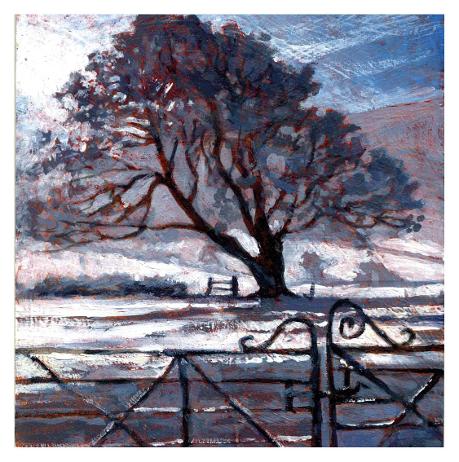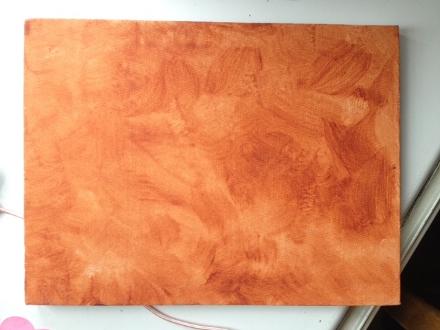 Please cover your primed painting surface with a "scrumbled" layer of burnt sienna or yellow ochre acrylic paint, as per this example. Use a little water to aid transparency and use criss-cossed strokes to create a random texture.
Please make sure this is completely dry before the workshop begins or it will lift and mix with your other colours (though don't panic if it's not - you may find the mix lends a certain mysterious quality to your painting and creates one of those "happy accidents!")
If you do not have burnt sienna, any mid brown or rusty red will do, orange,sand colour... it's up to you!