On-line workshops to inspire and motivate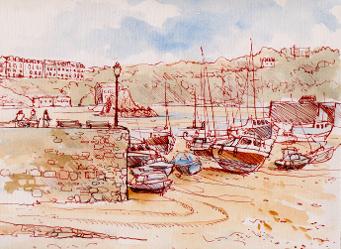 Monday 17th May 10:00am to 11:30am
Join us for a little relaxed sketching with that lovely medium, pen and wash - the perfect method for drawing on location when you are out and about. We will look at using a pen to define objects and pick out the interesting details of a landscape, before going on to use watercolours to bring out the tones and thecapture mood and atmosphere. Suitable for all abilities.
Materials List

Please have a look at this list and collect these items together for the start of each workshop. Please make sure your workspace is comfortable enough to view your computer screen as well as your drawing board/easel etc, if you intend to join in with the workshop.
Any paper you have, thick cartridge or watercolour paper is best.
Optional - tracing paper, or kitchen greaseproof
Any graphite pencil, i.e. and HB
Any drawing pens you have, i.e. nibbed pen, graphic PITT pen, or just a plain old biro.
Ink (non-watersoluable)if you are using a nibbed pen. Brown is best but others will work fine.
Watercolours and a medium size brush, palette and water pot.
If you are not confident at drawing, please print a "cheat sheet" (this will be emailed to you once you have booked on the course). These can be printed onto photocopy, cartridge or even watercolour paper.
Tea and biscuits of your choice!