On-line workshops to inspire and motivate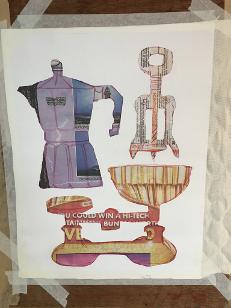 Favourite objects from your home
March 22nd 10:00am to 11:30am
In this fun and inspirational workshop you will learn how to make ordinary objects into a something quite remarkable using simple techniques. After a little sketching, we will select items to work into a collage using magazines and scrap coloured paper. This workshop is guaranteed to inspire you to create a whole series of images which can be framed or made into fun greetings cards to send out to your friends and family during lock-down.
Materials List

Please have a look at this list and collect these items together for the start of each workshop. Please make sure your workspace is comfortable enough to view your computer screen as well as your drawing board/easel etc, if you intend to join in with the workshop.
Piece of drawing or watercolour paper or scrap canvas/card. Please fix paper to a drawing board with masking tape. If you would like to use oils or acrylics to paint with, it is useful if you could prime your surface with primer or white emulsion paint beforehand.
A sheet of card or watercolour paper, fixed to a board with masking tape, or a canvas if you prefer. If using oil or acrylic paints, it's best to cover your surface first with primer or household white emulsion paint.
Three or more objects from your house - see list below for suggestions.
A selection of old magazines, newspapers, junk mail, wallpaper off-cuts, Christmas cards… whatever you can find that's colourful and would otherwise land in the recycling bin!
Pencil, marker pen, scissors and glue (pritt-stick is fine).
Oil or acrylic paints, or watercolour paints - any colours.
Any brushes you have.
Water pot, or turps and jar if you are using oils.
Optional - apron, tea and biscuits!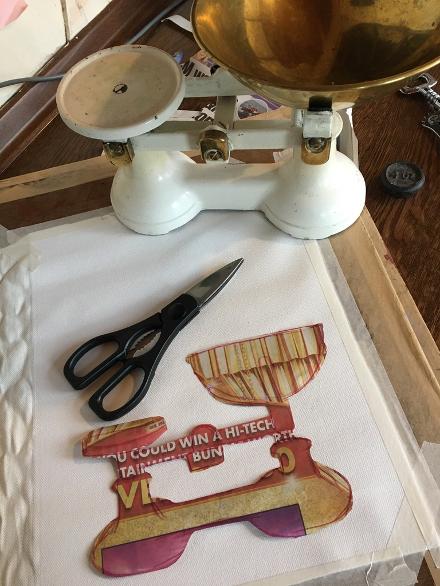 Please gather together three or more items from your house so you can draw them into your composition. Try to pick objects that have interesting shapes, rather than just squares or anything that is too long and thin to fit onto paper. Items I can recommend are:
Shapely milk jug or flower arranging vases
Old fashioned weighing scales
Wine bottles and wine glasses of any shape
Scissors/bottle opener/interestingly shaped tools
A collection of knives, forks and spoons
Coffee percolator or tea pot
Any favourite item which has an interesting shape!