On-line workshops to inspire and motivate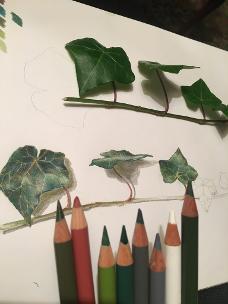 Botanical illustration with coloured pencils
March 26th 10:00am to 11:30am
Using ivy leaves as a subject, this class gives a taster of what you can achieve with simple techniques in your own home. If you enjoy fine details and love plants, this workshop will inspire you to continue exploring the miniature landscapes of a simple leaf.
Suitable for all abilities, or for those new or returning to botanical illustration, this class will help and encourage, with an emphasis on enjoying the process
Materials List

Please have a look at this list and collect these items together for the start of each workshop. Please make sure your workspace is comfortable enough to view your computer screen as well as your drawing board/easel etc, if you intend to join in with the workshop.
Any smooth cartridge-type drawing paper or card you have to hand.
An HB or F graphite pencil.
Coloured pencils - any colours you have will be a help.
Putty or standard pencil eraser.
An ivy leaf, or stem of your choice with leaves.
An embossing tool or anything similar - darning needle, butter knife, small screw driver…!
Good light to see your work
Reading glasses, if you need them!