On-line workshops to inspire and motivate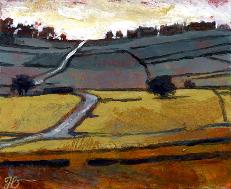 Winter Landscapes in Acrylics
2nd April 10:00am to 11:30am
Concentrating on winter colours, we will find a way to mix natural looking tones from a very limited palette to add drama to an otherwise cool or uninteresting picture. We will look at finding a good subject, and have a look at using an unpromising photograph to turn it to our advantage. Full demonstration will be given. Suitable for all abilities.
Materials List

Please have a look at this list and collect these items together for the start of each workshop. Please make sure your workspace is comfortable enough to view your computer screen as well as your drawing board/easel etc, if you intend to join in with the workshop.
Paper/canvas/board of any size, primed. Paint your dry primed paper with a "scrumbled" mix of burnt sienna and a little water to aid transparency. Use a large bristle brush to create texture - please see image below for the kind of texture required. Please fix loose paper to a board.
Any brushes you have, though a medium bristle brush is best for acrylic. One medium watercolour brush also useful for finer details.
Acrylic paints: Titanium White, Yellow Ochre, Ultramarine Blue, Burnt Sienna. Alternatively bring any colours you have and we'll make them work!
Pot for water.
Some kind of palette - plate, plastic lid etc
Apron/cup of tea/biscuits…!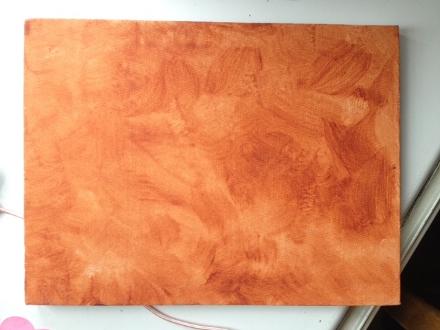 Please cover your primed painting surface with a "scrumbled" layer of burnt sienna acrylic paint, as per this example. Use a little water to aid transparency and use criss-cossed strokes to create a random texture.
Please make sure this is completely dry before the workshop begins or it will lift and mix with your other colours (though don't panic if it's not - you may find the mix lends a certain mysterious quality to your painting and creates one of those "happy accidents!")
If you do not have burnt sienna, any mid brown or rusty red will do, or yellow ochre, orange,sand colour... it's up to you!