On-line workshops to inspire and motivate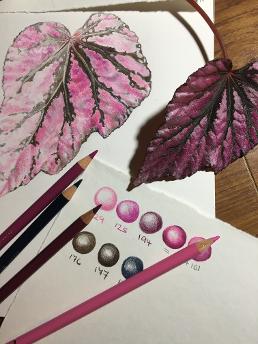 Houseplant Challenge 1
Botanical drawing with coloured pencils - begonia leaves
Friday 23rd April 10:00am to 11:30am
Join us for a workshop with an emphasis on detail - this week we look at a common houseplant, the begonia. We find ways of drawing out the shape with accuracy, before going on to selecting the best colours and techniques to describe the foliage. For all those who enjoy botanical illustration, and suitable for all abilities.
Materials List

Please have a look at this list and collect these items together for the start of each workshop. Please make sure your workspace is comfortable enough to view your computer screen as well as your drawing board/easel etc, if you intend to join in with the workshop.
Any smooth cartridge-type drawing paper or card you have to hand
An HB or F graphite pencil
Coloured pencils - any colours you have will be a help
Putty or standard pencil eraser
Optional - tracing paper, or kitchen greaseproof
A leaf taken from a begonia - if you do not have any of these, I will send a few examples for you to print
An embossing tool or anything similar - darning needle, butter knife, small screw driver…!
A colourless blending pencil, if you have one
Good light to see your work
Reading glasses, if you need them!