On-line workshops to inspire and motivate
New season of on-lineworkshops for Summer 2021
Welcome back to Field Breaks Art Club, designed to motivate and inspire you during this extented time spent away from mixed company.
Workshops are relaxed and fun with an emphasis on experimentation, and are designed to use simple art materials you already have at home. Full demonstration is given throughout and you will have plenty of time for asking questions as we go along. Classes take part on-line using Zoom so please ensure you have a comfortable perch to view your screen and secure internet connection.

Motivate yourself with a new idea

Learn something different

Socialise safely with other artists
Summer Meadows in Acrylics
Friday 25th June 2021 10:00 - 11:30am
Join us for a virtual wander around the summer fields as we look for ways to harness all the soft foliage of the country meadow. Suprisingly difficult to capture, we will look at ways to create a simple composition and build up natural looking layers with a summer palette of colours.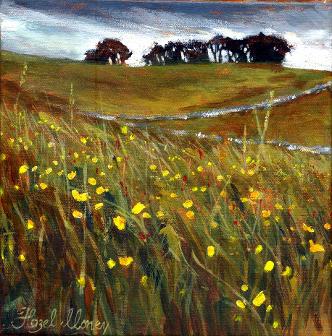 Materials list: One small canvas, primed and underpainted with burnt sienna or a "rust" type colour; Mix of brushes, including a hog's hair and a fine watercolour brush; water pot and apron; acrylic paints - white, burnt sienna, ultramarine (or similar) blue, yellow ochre, cadmium yellow, sap green. Optional - tea & biscuits of your choice!
Coastal Scene in Watercolours
Friday 2nd July 2021 10:00 - 11:30am
Some of us may now have had the opportunity to visit one of Britain's many wonderful coastlines, and been inspired to have a go with watercolours. Using photographic reference, we simplify the scene as if we were sketching on the cliff tops, using the fresh vitality of watercolours to bring light and warmth to our paintings.
Materials list: Any old watercolour set; watercolour brushes; pencil; stretched watercolour paper; apron and water pot. Optional - tea & biscuits of your choice!
Summer Gardens in Oil Pastels
Date TBA 2021 10:00 - 11:30am
How many of us have sat in a beautiful summer garden, wishing we could capture some of that colourful planting? Using cheap oil pastels, we will scrumble, blend and smudge our way through the borders, refining shapes and mixing colours until we pin down those peskyplants.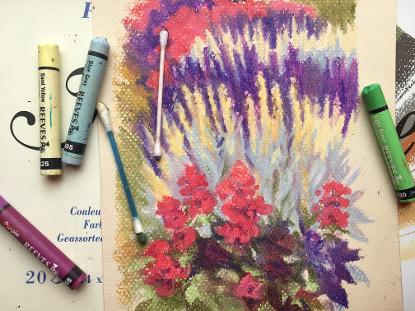 Materials list: Pastel, watercolour or texured paper; drawing board; oil pastels of any colours you can find; cotton buds (the cheap hard ones are best) or blending tool if you have one; a palette or butter knife (optional); Tea & biscuits of your choice!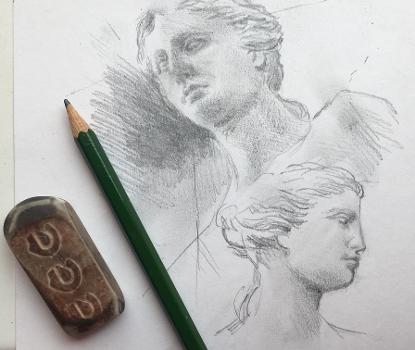 Figure drawing with Venus
Monday 9th August 2021 10:00 - 11:30am
Using a camera and plaster model, we will use the classic Venus de Milo to help us understand the language of the figure. Using pencil to map out the angles of the head, we will smudge our way gently around the contours of the face and neck to produce a series of portraits from different angles.
Materials list: Pencils of any denomination; plastic eraser; drawing paper and board. Optional - tea & biscuits of your choice!