New!
Mini courses in drawing and painting
inexpensive half-day art workshops just £35
learn to draw and paint at your own pace
one-to-one or small groups for more time with the tutor
Join us from 10:00am to 1:00pm
We are very excited to announce that Field Breaks Art resident artist, Hazel Money, has recently opened her own painting and printmaking studio. Situated on the edge of the Derbyshire countryside in Clay Cross, the studio specialises in painting and printmaking workshops for small groups.
Take lessons in painting with oils, acrylics or watercolours
Unpick the mystery of oil pastels;
Or explore the wonderful world of graphite to develop your drawing skills.
"I spent many years at college and university, learning through patient observation, trial and error, and studying the work of others. Now I've gained half a lifetime of knowledge, I'm just passionate about passing it on to others." says Hazel. "The advantage of using my own studio means I can spend more time sharing knowledge rather than travelling about. A short class length promotes better concentration too!"

Hazel will give full demonstration and help you to achieve good results or answer any questions you may have. You will be able to look first-hand at original artworks to see where each technique is used in reality.
The classes are all limited to just four people, this not only gives more time for individual tuition but allows us to some space to distance. Fresh air will circulate throughout the workshop and you will have your own work table. Please bring your face mask with you for close demonstrations, and ensure you have received all available doses of the vaccine before travelling. We also strongly recommend you take a Covid test before the workshop, thank you. Please note access to the toilet is up stairs.
Where is the King's Head Studio?
You can find the studio at Clay Cross in Derbyshire, a short drive from the M1 motorway, and just 20 minutes from Bakewell. Specific directions will be given after booking.
What's included?
All materials supplied for the workshops - just turn up!
Refreshments provided - tea/coffee and lashings of biscuits
How do I book?
Have a look at the course list below and choose which session you would like to join. Then you can either book online by clicking below, or call on 07984 887133. Cheques and most credit cards accepted. Specific courses also available by request for groups, so please do enquire.
Can I request a different date?
Yes - workshops can be tailored to your requirements for small groups or on a one-to-one basis, please enquire.
Pen and watercolour - Saturday, February 12th 10:00am - 1:00pm
The perfect method for the hesitant artist! We will look at using a pen to define objects and pick out the interesting details of a landscape, before going on to use watercolours to bring out the tones and capture mood and atmosphere. Suitable for all abilities.
.
Lino printing for beginners - Saturday, March 5th 10:00am - 1:00pm
Try your hand at the joyful art of lino printing, using simple patterns and multiple colours. See how you can use the block creatively using layering and stenciling, very quickly producing a series of varying and interesting images. Suitable for all abilities.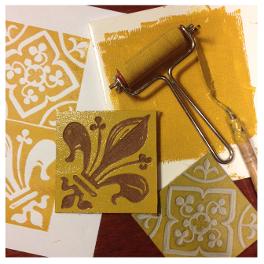 Watercolours for beginners - Monday, March 7th 10:00am - 1:00pm
Are you fascinated by watercolours but just don't know where to start? Were you given a set for Christmas but feel guilty that you've not used them yet?! Fed up with on-line demonstrations? Join us for a foray into the wonderful world of watercolour, exploring different techniques to give you the starting point you need.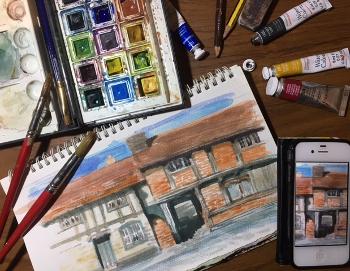 Please note the dates advertised are subject to change depending on bookings- if a course is not available when you wish please do contact us as courses are also available by request, thank you.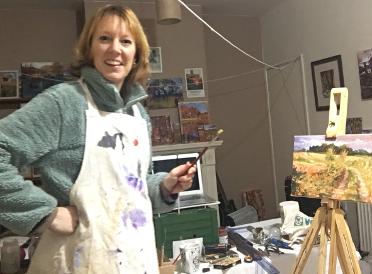 Hazel will give full step-by-step demonstrations and answer any questions you may have