On-line workshops to inspire and motivate - Autumn/Winter 2023
Why not take time out and join in with one of our short on-line art classes? Designed to inspire and motivate, the workshops are relaxed and fun, with an emphasis on experimentation. Hosted by resident FBA artist Hazel Money, each class will introduce a topic or demonstrate a technique for you to try at home. Join in during the class and chat to others for inspiration and ideas.
Motivate yourself with a new idea

Learn something different

No maximum class size
These workshops are designed to use simple art materials you are likely to have at home already. Full demonstration is given throughout and you will have plenty of time for asking questions as we go along. Classes take part on-line using Zoom so please ensure you have a comfortable perch to view your screen and a secure internet connection.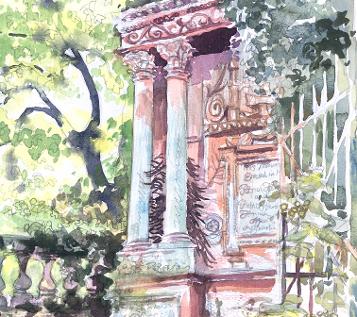 Picturesque Decay - Pencil and Watercolour Study
Monday 27th November 2023 10:00 to 11:30am
Old buildings and crumbling stonework make a wonderful subject to pick out with our watercolours, and we will use a variety of methods to describe this intimate and melancholy corner of an old stonemonument. This workshop is the perfect way to inspire you to make sketchbook studies, suitable for all abilities.
You will need: Watercolour paper, watercolour set, a sharpened pencil, watercolour brush, water pot.
Once you have signed up to a class, you will receive a confirmation by email.
Materials list and a Zoom link and an image to work from will be forwarded a few days before the workshop - please print this out beforehand if you can, however if you have no access to a printer, you will be able to see Hazel's throughout the workshop on your screen.

Please note - If you do not receive the link before the workshop, please do email or contact us, as the email may have gone astray - if you wait until after the workshop has taken place, unfortunately we cannot offer a refund
We look forward to seeing you soon!
Upcoming workshops - please vote for your favourites
Feedback is really important to shaping the type of courses we offer at Field Breaks Art. Here are a few of the ideas in the pipeline for upcoming on-line workshops. Now is your chance to vote for your favourites and see them available to book onto next year. Just click against those that interest you and press the button to submit - this will really help us out, so we thank you very much in advance!