Derbyshire Field Barns
in Acrylics
3rd August 2021 at 10:00 am

-

3:30 pm

The Art Room, Barlow, Derbyshire S18 7TE

Painting Derbyshire Field Barns in Acrylic Paints
Join Derbyshire based artisit Hazel Money for a practical study of that most charming and iconic building, so typical to the Derbyshire countryside. Looking closely at the texture and form of stonework, learn how to use a limited palette of colours to bring out subtle shade differences and tonal contrasts. Using the surrounding fields around The Art Room studio for inspiration, we will set our barns within a landscape of colour, wild flowers and summer vegetation.
By the end of the workshop we will have all created at least one painting, and have also aquired the skills and inspiration to set about creating a whole series of works featuring Derbyshire's stone barns.
Tutor: Hazel Money

Suitable for beginners through to those who already enjoy painting with acrylics.
Tuesday 3 August – 10 am – 3.30 pm. Photographic reference will be provided along with refreshments. Please bring a packed lunch, also an apron or suitable clothes for painting. Parking is on site. This is a non-residential workshop.
Materials to bring:
Please bring a range acrylic paint colours including white/ultramarine blue/burnt sienna/yellow ochre/cadmium yellow, along with bristle and watercolour brushes, water pot, palette and one or two small canvases, 12″ x 8″. Please underpaint your canvas with a "scrumbled" mix of burnt sienna let down with a little water, and allow to dry fully - please see below for an example. Hazel will share out any acrylic colours you may not have, and also have some pre-primed and underpainted canvases you can purchase on the day.The workshop fee is £99 and is payable to confirmlace. Please see How to Pay. Terms and Condiions apply.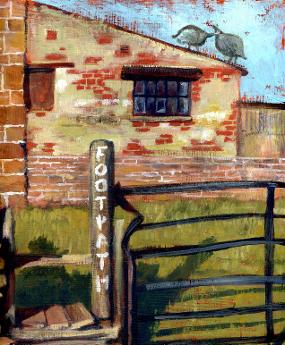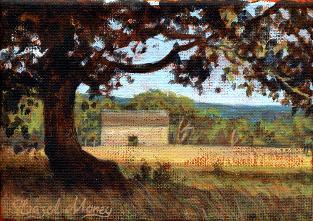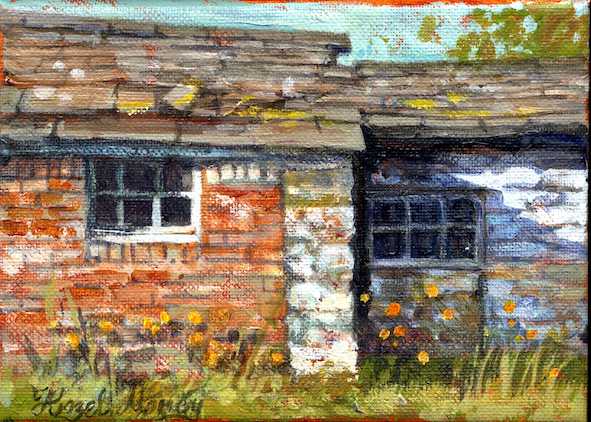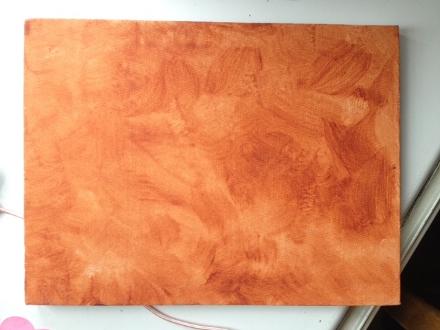 Please cover your primed painting surface with a "scrumbled" layer of burnt sienna acrylic paint, as per this example. Use a little water to aid transparency and use criss-cossed strokes to create a random texture.
Please make sure this is completely dry before the workshop begins or it will lift and mix with your other colours (though don't panic if it's not - you may find the mix lends a certain mysterious quality to your painting and creates one of those "happy accidents!")
If you do not have burnt sienna, any mid brown or rusty red will do, or yellow ochre, orange,sand colour... it's up to you!